C'est ung grand cas veoir le Mont Pelyon,
Ou d'avoir veu les ruines de Troie:
Mais qui ne veoit la ville de Lyon,
Aulcun plaisir à ses yeux il n'octroye

(Marot)

I passed through Lille on the way from Brussels to Lyon. As most European travellers know, Lille is basically purgatory. It has somehow rebranded itself in recent years as a legitimate tourist destination. God knows how (it probably has something to do with the Eurostar). Anyway, I quite like this picture, if only for its geometricality; kinda like a suprematist painting.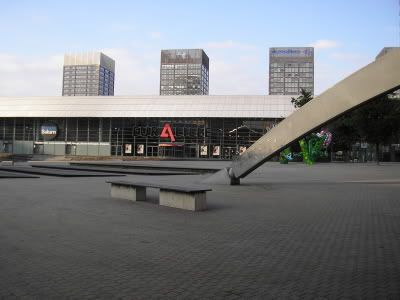 I had high hopes for the Musée de l'Imprimerie in Lyon. It turned out to be pretty disappointing. The museum has a decent enough but fairly mediocre collection of incunabula and sixteenth-century books; but what's the point in displaying books in a museum? Books are not things to stick behind glass cases, if only for practical reasons: you can only display one verso and one recto at the very most, and you can't feel the texture of the vellum or inhale the odour of centuries. No, as Dr Johnson once said in an unguarded moment: "A book placed in a museum is like a dog made to walk on its hind legs: fucking useless." Luckily for him (and posterity), Boswell was not present at the time.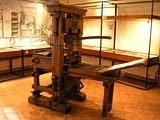 This is not a genuine fifteenth-century printing press.


Hardly anything there on Louise Labé, on Rabelais, Scève, Pernette du Guillet, Marot, or countless others the bulk of whose literary production was printed for the first time at Lyon. The most wothwhile thing on display in the museum is one of the printed flyers that kicked off the infamous 'affaire des placards' in 1534 (in fact one of only two surviving copies). Posted by Protestants around Paris and at the King's residence at Amboise, the flyers prompted a crackdown by François Ier on the freedom of the press which directly affected Rabelais, among others (a fair few heretics were burned too, but they weren't great authors, so we needn't worry about them). Since these flyers weren't even printed in Lyon (they were printed by exiles in Switzerland, people who have posed a nuisance to civilized society throughout history ::wink::), it's not entirely relevant to the history of printing in Lyon, but who cares. Stick that behind a glass case, by all means.

The Amphitheatre des Trois Gaules is a Roman amphitheatre dating from the reign of Augustus. Complete with lengthening shadows and black cat for added foreboding. The Romans were quite superstitious about cats. And now they're all dead, and the cat is lording it over the ruins of their once great civilization. I think we can all all learn a lesson from that.




I quite like this picture (taken in the Place des Terraux), even if it is technically awful. I like taking photos directly into the sun. Is that so terrible?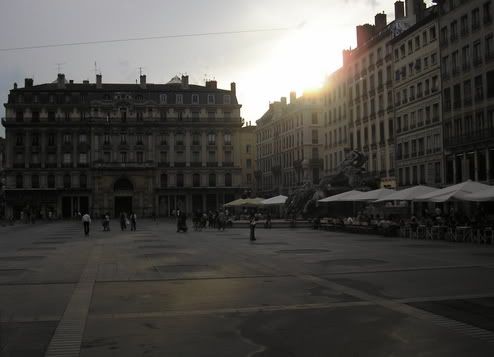 There are some wonderful views to be had from the old town.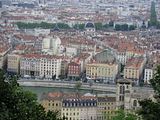 I like this one, for the off-kilter arboreal encadrement:




And this: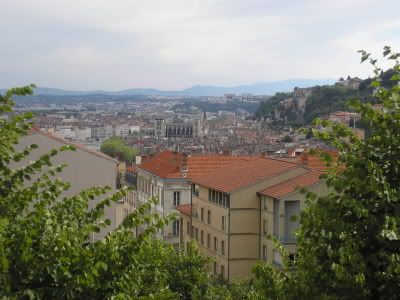 And this, for the almost-symmetry:




More into-sun nonsense (this time it's the Notre-Dame de Fourvière basilica):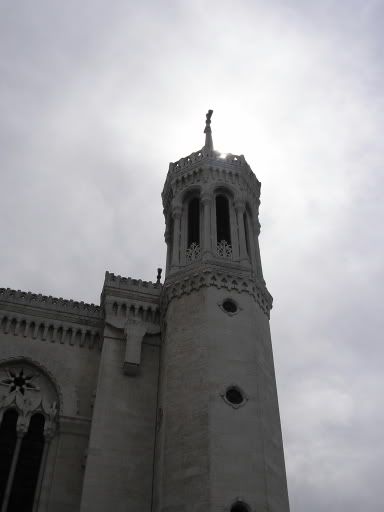 The Rhône, or is it the Saône, Meh, either way: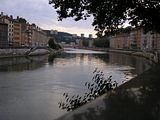 The trompe l'oeil murals are something else, mainly because they're go unnoticed for the most part; they seem to be so inconspicuous. They might as well be permanent fixures in the city. This has been an obsession of mine for quite some time now.

Here are my photos of a couple of them. Firstly, the Fresque des Lyonnais:

Almost a good photo, this: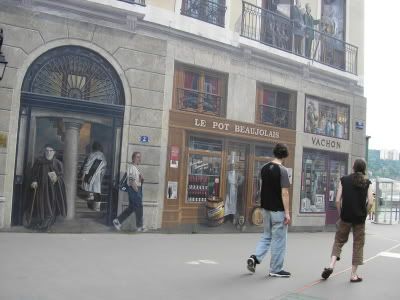 The Mur des Canuts, which is, as the last image shows, a completely flat wall.