As I said in the last entry, I was to spend a week in France. So, on the first leg of my Gallic odyssey I spent a couple of days in that well-known French town, Brussels, which is, of course, in France, as you know. Brussels a wonderful city. It gets a bad press for obvious reasons; but it's one of the few cities in continental Europe that I've really appreciated.

Grrr. I spent ages uploading all my photos to imageshack and now it's refusing the connection. Surely I can't have exceeded the bandwidth allowance already? Back to trusty photobucket then. Unfortunately my images will not be accessible in all their glorious immensity. NB: they're mostly clickable, so take your chances.

First thing to report: the lifts in this Brussels hotel were manufactured by none other than: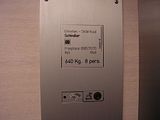 Now, I know I'm not the first to have noticed this and found it amusing. In fact, my brother told me some years ago that Schindler's lifts were a fixture in certain faculty buildings at the University of Manchester (and I refused to believe him for quite some time). And googling for info on the company just now, I came across this blog entry, which suggests that the whole joke is more widespread than I dared to imagine. Oh well, I still found it funny.

Now, I figured out that there's only one place you can stand in the Grand' Place to get a decent picture of the Hotel de Ville (at least, if you haven't got some sort of wide angle lens), and that's here:


All other photos are partial: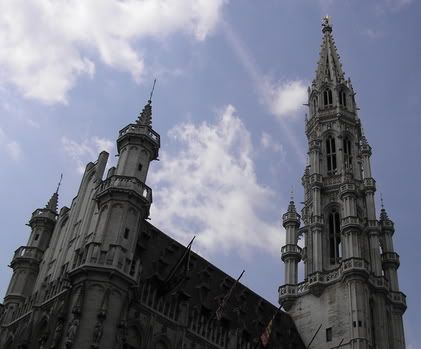 I spent quite some time trying to get a good photo of this pseudo-Gothic monstrosity, and I'm pretty sure I failed. Oh well.

The Maison du Roi doesn't display much more restraint, but it does offer something in the way of visual relief:



I quite liked these:


The Belgians will set up a museum to anything:


Japanese businessmen walking up a hill: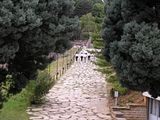 Le Petit Sablon is a pleasant little park opposite the Église Notre-Dame, populated by sixteenth-century statuary (they're nothing of the sort, of course):




I don't know what the hell this thing is: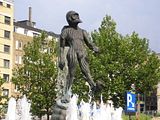 The Erasmus House is a pretty little museum located in an Anderlecht residence reputedly occupied by the great man himself sometime in 1521. Traces of his presence there, though, are conspicuous by their absence. Here, for example, is a writing desk which might have been the very one Erasmus used to compose his greatest works: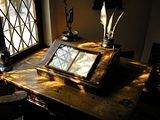 It wasn't, of course; it was a just a common or garden sixteenth-century writing desk. Still, nice photo, even if I do say so myself.

The Belgians seem to have this tendency to claim as their own famous sons of the region that were quite clearly not Belgian. I mean Erasmus of Rotterdam, for Christ's sake! And they have a Metro line in Brussels named after him! Still, it must be symptomatic of living in a country that's only a century or so old and doesn't have much in the way of a coherent national identity. It was only in visiting Brussels that I realized how incongruous it is to have a community that functions on the basis of a French/Flemish bilingualism. It's like the ultimate clash of linguistic identities: the Romance facing off the Germanic with neither side giving any quarter. And they made this place into a nation! I'm just amazed that Belgium didn't turn out like the Balkans, franchement.

But the old joke about there being no famous Belgians is quite clearly not true: there's Magritte, Hergé and Jacques Brel. And I'll let them have Breugel too (though not Bosch). I love that they have a Metro station named after Brel. And a museum. And a Youth Hostel. And so on. Despite the fact that most of his songs are bitterly critical of Belgian culture. I remember reading, too, that Brel had to have a native speaker's help with the song Marieke because he didn't know enough Flemish. Another contradiction.

The Musée d'art moderne is well worth a visit, purely for the fantastic collection of Magrittes it holds. None of his most famous works (at least, as far as my limited knowledge goes), but a huge selection - at least two dozen - of very impressive works from various points in his career. I especially liked L'Empire des lumières. It took me quite some time of looking at that picture to realize what about it was making me feel uneasy. The museum also has a nice collection of works by other surrealists, including Man Ray, and Dali (if that's your thing: leaves me a bit cold, personally).

It was the Musée d'art ancien that really held my attention. Hanging there is Bosch's Temptation of St Antony. Though the museum paraphernalia is remarkably reluctant to inform you of the fact, this is not in fact the Bosch original but a very well-executed copy by a contemporary of his. Despite this fact, it attracts the most visitors (in the short time I was looking at it I was able to eavesdrop guided tours in German and Japanese, and notice that the first reaction of most visitors, not just the children, was laughter) followed closely by Bruegel's garish Fall of the Rebel Angels. People like the weird stuff. Actually Bosch's Temptation is a breathtaking painting to look at as a whole even without paying close attention to the fantastical elements. I can't say the same of the Bruegel, which is only superficially interesting. Nevertheless it attracts the most attention in the Bruegel room, perhaps jointly with the younger Bruegel's Battle of Carnival and Lent, which is yet another copy, of course. This at the expense of the far superior Fall of Icarus, in my opinion the finest of the museum's holdings. The lack of attention given to this painting by visitors to the museum is nothing if not appropriate, given Bruegel's inspiredly beside-the-point treatment of the subject.

If I had to pick out one other remarkable painting - although the museum has dozens - it would be Lucas Cranach's Venus and Cupid (the one with the bees, defintely the best of his variations on this theme). If that's not the kinkiest Venus ever committed to canvas, I don't know what is.

The Erasmus House


is chiefly notable (it seemed to me) for housing more portraits of the great humanist than you could feasably shake a stick at. Most of them are variations on the famous Holbein portraits. I reckon I could easily pick Erasmus out of a police line up of seriously-dour-looking-Dutchmen-with-a-g
lint-of-mischievous-humour-in-the-eye-an
d-a-general-bearing-of-serene-wisdom, no problem. Many of the exhibits are only loosely connected to Erasmus, if at all. What a nineteenth-century grandfather clock has to do with Erasmus is anyone's guess (it bore the legend 'Vigilate: nescitis horam discessus', which is, I think, from the New Testament; it sounds vaguely like something Erasmus would have written on, I suppose). Still, the museum's definitely worth visiting, if only to take a look at the Temptation of St Antony by Pieter Huys, an oddly cartoonish variation on the Bosch painting, and quite startling enough in its own right.

The other reason to visit the Erasmus house is what they call the 'Philosophical Garden'. I love the idea of a philosophical garden. Indulging peripatetic moods.


Scattered throughout the gardens, Erasmian adages, written on water: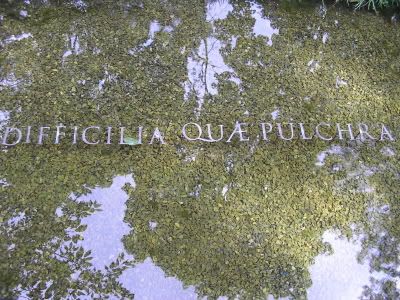 To Heysel. The Atomium was being refurbished when I was there. I was very much impressed by the size of the thing, which I had always assumed to be pretty small for some reason. Seeing the workmen perched on the top of those spheres gave me the fear, let me tell you.


Sun-backed photos. What can I say? I likes 'em.