In the prologue to his
Gargantua
, Rabelais states:
[E]n icelle bien aultre goust trouverez, & doctrine plus absconce que vous revelera de tresaultz sacremens & mystères horrificques, tant en ce que concerne nostre religion, que aussi l'estat politicq & vie oeconomicque.

[In the perusal of this treatise you shall find another kind of taste, and a doctrine of a more profound and abstruse consideration, which will disclose unto you the most glorious sacraments and dreadful mysteries, as well in what concerneth your religion, as matters of the public state, and life economical. – trans. Urquhart]
Readers of Rabelais have over the centuries been fascinated with the idea that the linguistic exuberance of his text encodes secrets to be read only by an initiated élite. The above passage seems to offer a justification for such an approach, which became particularly widespread in the nineteenth century, an age obsessed with the occult, with secret histories and with mystical claptrap of all kinds. One such interpreter, the much and justly maligned Claude-Sosthène
Grasset d'Orcet
(1828-1900), went further than most.
I was put onto the works of Grasset d'Orcet some time ago by an online acquaintance; I had never heard his name mentioned in an academic context, and was entirely unfamiliar with this particular mode of reading Rabelais. But it so happens that his complete works are even now being edited and republished, and I was quite easily able to pick up volume I of his
Oeuvres décryptées
, which contains his work on Rabelais and on the
Hypnerotomachia Poliphili
, or rather, Béroalde de Verville's translation of it,
Le Songe de Poliphile
.
It's quite a read.
Grasset d'Orcet's method in decoding what he calls 'la langue des oiseaux' consists in breaking French words and phrases down into their constituent phonemes, then recombining them to form new words and phrases. It is basically a variation on the rebuses or blasons used in devices, in heraldry, and in cathedral decorations. Indeed, Grasset d'Orcet confidently claims that Rabelais's texts are constructed exactly like Gothic cathedrals.
There are a few different subdialects of this language (bear with me here): the 'grimoire blanc' is the blason properly speaking: these must form eight syllable lines in French, which must always end with an 'L' sound (Grasset d'Orcet entirely spuriously derives 'blasonner' from 'bé [bien] L assoner'). Then there's the 'grimoire noir', which admits Latin, Greek and Hebrew also. 'Patelinage' is a method of expressing the blason with actions instead of words or images. 'Lanternois' ('Lanternish') does not require the 'L' rhymes, and is the most common language Rabelais uses to encode his writing. We are told us as much in
Pantagruel
Ch 9, when Panurge is asked by Epistemon (in Urquhart's translation): 'Do you speak Christian, or the buffoon language, otherwise called Patelinois? Nay, it is the puzlatory tongue, said another, which some call Lanternois.' Lanternois must be the language spoken in the 'pays Lanternois', which makes an appearance in the
Quart livre
.
So why is Lanternois so similar to middle French (albeit a version with very loose grammar)? Well might you ask, since Grasset d'Orcet contends that it is not just texts written in French that should be decoded in this way but also the symbolism of the visual arts and architecture. And Latin texts also render into French in this way: Louis XIV was the unwitting target of satire when he adopted 'Nec pluribus impar' as his device; for in Lanternois, this reads 'Ne que plus ribaud, sans pair insolence' ['There is none more ribald or more insolent']. The reason is quite simple: it is because French is the language of Freemasonry, and has been since the sixth century, although the 'langue du blason' was only widely adopted in the eleventh...
Rabelais's works are vehicles for the transmission of messages between those initiated into the secrets of freemasonry. Insofar as they deal with 'l'estat politicq & vie oeconomicque', they are mainly concerned with the machinations of several prominent court women during the reigns of François I and Henri II – notably Catherine de' Medici and Diane de Poitiers – and their efforts to take control of the destiny of the French monarchy and Catholicism. Often the historical facts must be manipulated to square with the phonetic constraints of the method. Quite a lot of significance, for example, is given to the fact that Eleanor of Habsburg (second wife of François I) had a particular taste for lobster (homard), sometimes indulging in it to excess.
What I have described as Grasset d'Orcet's method might appear not dissimilar to another, more everyday linguistic operation, namely,
punning
. And indeed, that's pretty much what it is.
This page
gives a psychoanalytical account of the 'langue des oiseaux'. Lacan was an inveterate punster in the best Rabelaisian tradition: consider his 'le nom du père'/'le
non
du père'/'les non-dupes errent'. Same thing. Grasset d'Orcet's madness is not so far removed from the post-structuralist manias of the late twentieth century.
The way this all actually works with Rabelais's texts can be seen from the following example, Grasset d'Orcet's decoding of the genealogy of Gargantua (Ch 1). Grasset d'Orcet takes a section of text, picks out certain words of significance using some sort of 'grid' (whose underlying algorithms are not revealed), then shuffles them around a bit until they form eight-syllable lines all ending (more or less) in 'L' sounds (again, according to some mysterious algorithm to which we are not a party); he then smooshes the words together phonetically and 'translates' them into French by resolving the sounds differently and altering the vowels.
Retournant à nos moutons, ie vous diz que par un don souverain de dieu nous a esté reservée l'antiquité & genealogie de Gargantua, plus entière que nulle aultre, de dieu ie ne parle, car il ne me appartient, aussy les diables (ce sont les caffars) se y opposent. Et fut trouvée par Iean Audeau, en un pré qu'il avoit près l'arceau gualeau au dessoubz de l'Olive, tirant à Marsay. Duquel faisant lever les fossez, touchèrent les piocheurs de leurs marres, un grand tombeau de bronze long sans mesure: car oncques n'en trouvèrent le bout, parce qu'il entroit trop avant les escluses de Vienne. Icelluy ouvrans en certain lieu signé au dessus d'un goubelet, à l'entour du quel estoit escript en lettres Ethrusques, HIC BIBITUR, trouvèrent neuf flaccons en tel ordre qu'on assiet les quilles en Guascoigne. Des quelz celluy qu'on my lieu estoit, couvroit un gros, gras, grand, gris, ioly, petit, moisy, livret, plus mais non mieux sentent que roses.
Using the grid method, this gives:
Jean Audeau, pré arceau gualeau,
Sous olive, Narsay tirant. airain sépulcre.
Signé Goubelet. Ci l'on boit, latin.
Neuf flacons quillés, mi base livret
Gros, gras, grand, gris, joli,
Petit, moysi, sentant plus ne mieux roses.
Which in Lanternois means:
Janus, dieu pairé arche Gaule,
Seul vénère Saturne, Touraine sépulcre.
Signe: Goubelet, Colon boit, loi tient.
Haine au Faulcon! colombe ose lève haste.
Guerre, gare, Guérin, doit grege loup.
Petit musicien, tient Apollon, marsye.
Which, roughly translated, gives:
'Janus, double god of the kingdom of the Gauls, the sepulchre of Touraine, reveres none but Saturn, under the sign of the dove that drinks from a goblet. It has this law: hatred of the falcon! May the dove dare to raise its standard, the wolf must keep his flock from war with Guérin. Marsyas takes Apollo for a little musician.'
A further translative operation is required to correctly decode the symbolism of this little message. I choose not to reveal it to you now, since I'm not sure that you're ready for it yet (
Odi profanum vulgus et arceo
!). Also, I'm not really sure I have the slightest idea what the bloody hell Grasset d'Orcet's on about half the time.
The names of Rabelais's characters are duly decoded for us – but, as with all good systems of symbolization, they do not necessarily always denote the same thing. The name Panurge derives from the Greek 'panourgos', or 'factotum'. But, asserts Grasset d'Orcet, Rabelais only gave the names of his characters the
appearance
of a Greek derivation, in order to set the pedants on the wrong track. In fact, Panurge in Lanternois signifies simply 'peint rouge', and therefore designates the mannerist painter Rosso. Later in the course of his interpretation, Grasset has cause to modify this reading somewhat: after the death of Rosso, Rabelais made Panurge represent Philibert Delorme instead. Later still, in the third and fourth books, Panurge came to designate Henri II ('pas n'urge': because he couldn't get it up). Even later still, we are told that Panurge was a stand in for the printer Sebastian Gryphius. It seems Panurge was made to do quite a bit of semiotic work: 'factotum', indeed.
As for Pantagruel, that name designates none other than François I himself ('Paix ne te guère vale' or 'peace avails you nothing'). Gargantua, it follows, was Louis XII, and the name translates as 'Guère gain tu as' ('you win little', a reference to his not entirely successful Italian campaigns).
Anyway, that will give you some idea of the complexity and rigour of Rabelais's steganographical technique. But it is not primarily the linguistic part of Rabelais's text that interests Grasset.
In chapter 20 of
Pantagruel
, after Panurge 'argues by signs' with the Englishman Thaumaste, the author informs us that he is refraining from giving us the full interpretation of the argument, because Thaumaste has already produced and published a volume in which he explains all. Grasset d'Orcet is convinced that this volume is none other than the
Songes drolatiques de Pantagruel
(Paris: Richard Breton, 1565), which you can persuse online
here
. This book is a collection of remarkable Boschian images, none of which seems to bear much of a relation to Rabelais's work. BibliOdyssey has a post about the woodcuts
here
. Grasset, who is under the impression that Rabelais himself drew these pictures (after all, if he was trained in the traditions of freemasonry then he must have been a competent draftsman, right?), finds more to decode in them than he does in the good doctor's writings. Perhaps this is because one has a bit more wriggle room with the translation of images than one does with the translation of words? Who knows?
One example will suffice to give you a sense of the messages encoded in these images. Consider this rum looking fellow: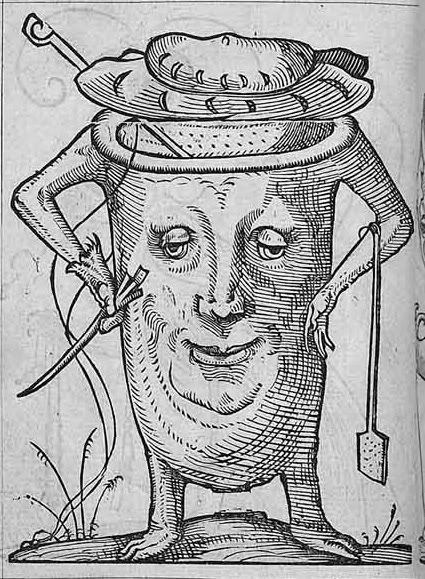 What we have here is a 'pot de terre' (earthenware pot) 'à deux anses' (with two handles), wearing a 'bare' (flat bonnet) which is tied to the ground with a string ('relié à terre par un fil'). This gives us: 'fil lie bare': Philibert [Delorme, the architect]; and 'deux anses, pot de terre': Diane de Poitiers [mistress of Henri II]. The image was therefore intended by Rabelais as a message to Diane, warning her that Philibert had betrayed her by going over to the side of Catherine de' Medici (who is, incidentally, represented by
this nice looking chap
).
On the other hand, I'm not so sceptical about Grasset's identification of
this prognathous person
with Charles V, since, well, there's an unmistakable Habsburg family resemblance about her.
Grasset d'Orcet's madness is quite clearly inflected by a strong nostalgia for the ancien régime and an utter contempt for the ideals of the Enlightenment and the French revolution. It's an aristocratic kind of madness. Rabelais, G.-d'O. helpfully informs us, was no champion of universal human rights. He would have been as disgusted as Balzac was by the advent of democracy and the encroachments of the bourgeoisie on the birthright of the nobility. He had no time for the pedantry of Italian humanism. He rejected classical learning, and hated republicanism. He was unswervingly pro-monarchy. His Catholicism was perfectly orthodox. He was, in short, an arch-conservative: just like Grasset d'Orcet. Funny, that.